Dogain was selected as the "Unicorn" cultivation enterprise in Suzhou in 2022
Recently, the municipal government office announced
List of "Unicorn" cultivation enterprises in Suzhou in 2022
Dogain Core Optoelectronics Technology (Suzhou) Co., Ltd
(Original Laser Technology (Suzhou) Co., Ltd.)
"Out of the loop" on the list!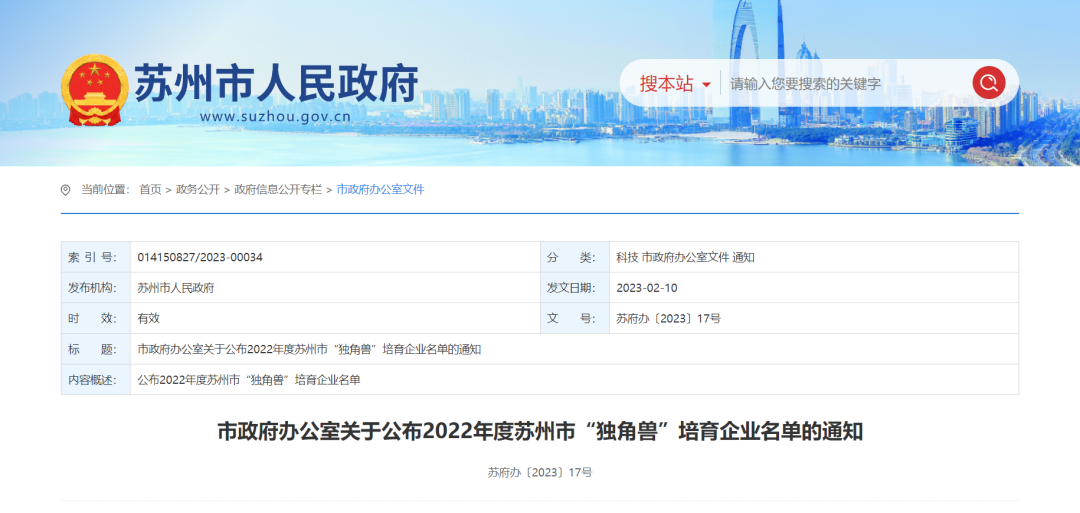 Unicorn enterprises are the embodiment of the ecological power of innovation and entrepreneurship, which represents the development direction of emerging industries and an important wind vane under the new economic situation, plays a key leading role in regional economic development and key technology research, and provides strong support for the development of industrial innovation clusters in the era of digital economy. Suzhou Unicorn Enterprise Cultivation Program focuses on strategic emerging industries and leading industries, and strives to promote a number of innovative enterprises with disruptive innovation, explosive growth, outstanding competitive advantages and large future output value to accelerate their growth into unicorn enterprises.
On the road of deepening the enterprise development-driven strategy and technological innovation, Dogain Core has always stood at the forefront of the tide and constantly broken the waves. The selection of Dogain as a "unicorn" cultivation enterprise in Suzhou is not only a recognition of Dogain core's innovative laser chip business for many years, but also a comprehensive affirmation of the company's technological innovation ability.
The past 2022 has been of great significance to Dogain core, and the company has won many awards. At the beginning of the year, it was awarded the "2021 Most Growing High-tech Enterprise", "2021 Industrial Park Unicorn Cultivation Enterprise", in the middle of the year it was awarded the "Jiangsu Enterprise Technology Center", and at the end of the year, it was recognized as "Jiangsu Province Specialized and Special New Small and Medium-sized Enterprise", "2022 Jiangsu Potential Unicorn Enterprise", and "2022 China Potential Unicorn Enterprise". In addition, the "communication-grade high-power single-mode 980nm semiconductor laser chip and pump module products" was also released at the end of 2022 and was highly recognized by the industry; The company's VCSEL chip shipments also hit a record high - VCSEL chips achieved KK-level mass production, setting a new depth and height for the company's development.
Stand up and march forward! In 2023, Dogain Core will always adhere to the design and manufacturing of high-end laser chips as its core competitiveness, focus on the field of core optoelectronics, further expand the company's product categories, enhance the company's product production capacity, seize market opportunities, make the enterprise bigger and stronger, and strive to create competitive advantage products as the goal, strive to tackle difficulties, solve problems, and form more innovative results, while continuously improving the integrity of the industrial chain and comprehensively enhancing the core competitiveness of enterprises.