Governor Xu Kunlin Investigates Dogain Laser
On August 10, Xu Kunlin, deputy secretary of Jiangsu Provincial Party Committee and governor of Jiangsu Province, and his party investigated strategic emerging industries in Suzhou and inspected Dogain Laser Technology (Suzhou) Co.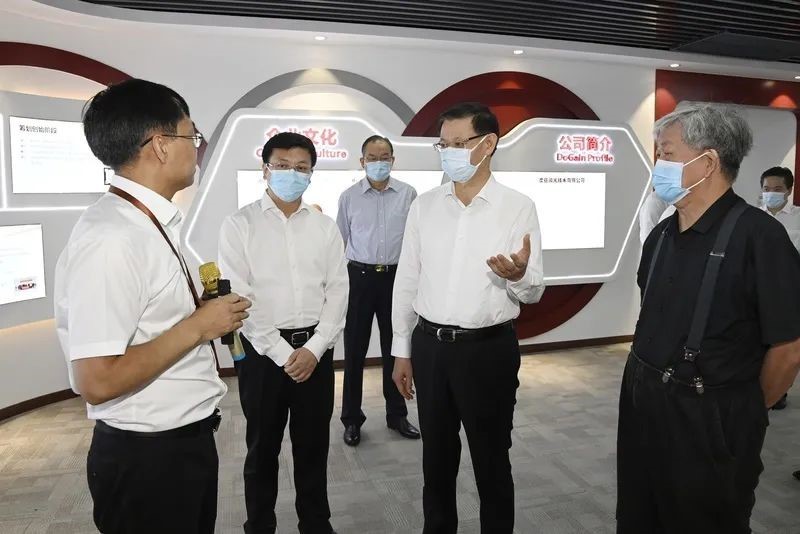 Dr. Yang Guowen and Academician Chen Lianghui made a presentation to Governor Xu
Dr. Zhao Weidong, Chairman and CEO of Dogain Laser, Dr. Yang Guowen, Vice Chairman and CTO, and Chen LiangHui, academician of DuHuan Laser were received and introduced to the leaders in detail the development history, industrial layout, technology research and development, talent team construction and so on. Governor Xu affirmed the technical strength of Duhuan Laser and the rapid development of the company, and proposed to closely follow the national strategic needs, benchmark the international advanced level, increase the investment in R&D, enhance the innovation capacity, promote the joint innovation of industry, academia and research, the upstream, midstream and downstream of the industry chain, large and small enterprises, and make joint efforts to win the battle of key core technologies, so as to contribute more strength to the province to build an industrial cluster with global competitiveness.
With the core competitiveness of high-end laser chip design and manufacturing, Dogain Laser focuses on the upstream of the optoelectronic industry chain and has a full set of engineering and mass production capabilities covering compound semiconductor laser chip design, epitaxial growth, device process, chip packaging, test characterization, reliability verification and functional modules, focusing on the design, development and manufacturing of high-performance, high-power, high-reliability optoelectronic chips and devices. Our products are widely used in industrial processing, intelligent sensing, optical communication, medical beauty and scientific research fields, and we are committed to building a product development center and manufacturer with international industry status.